A320 bolts are typically manufactured, sold and stocked as heavy hex bolts or fully threaded studs. However, other configurations such as bent bolts can be specified. This page gives an overview of how studs, heavy hex bolts, and other fastener configurations are manufactured.
Fully Threaded Studs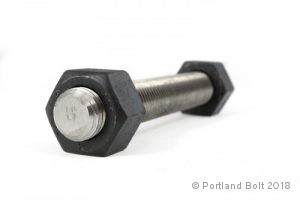 Fully threaded studs, also known as redi-rod or all thread rod, is a continuously threaded steel rod. Typically, studs are nutted on each end of the rod.
In terms of availability, fully threaded rods will come in 12' lengths and grades L7, B8, and B8M are usually stocked by distributors or manufacturers. The 12' lengths are often cut to a specific length, chamfered and then stamped.
Cutting: All thread rod will be cut to length using a band saw.
Chamfering: Each end of the stud will be beveled to help assemble the nut and reduce the risk of damaging the threads.
Stamping: Per A320 specification, the grade symbol and manufacturer's mark is required on one end of each stud. The machine used to chamfer the rods will typically stamp the end.
Heavy Hex Bolts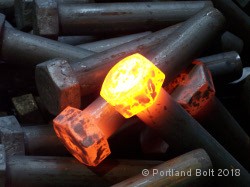 Heavy hex bolts will have a forged hexagonal head on one end and thread on the other end. These bolts are made by cutting, heading, heat treating or solution annealing (stainless steel grades), threaded, chamfered and then mechanically tested. Mass produced heavy hex bolts are manufactured through a cold heading process.
Cutting: Long steel round bar is either saw cut or sheared to the specified length. Round bar is available up to 40' lengths. These will be cut longer than the bolt length to accommodate a forged head.
Heading: To forge a head, one end of the steel round bar is heated and then inserted into an upsetter. The plunger will then form a head and also stamp the grade along with the manufacturer's marking. For cold headed bolts, the heads are forged at room temperature.
Heat Treating: The bolts go through a heat treating process called quench and temper. Large ovens are used to heat the bolts up to high temperatures, cooled, and then reheated to a lower temperature. This ensures that the bolts meet their required mechanical properties.
Solution Annealing: Stainless steel bolts in the 300 series go through a different heat treating process. These bolts are heated to a specified temperature and then rapidly cooled to a lower temperature. This gives the stainless steel bolts added corrosion resistance.
Mechanical Testing: Heavy hex bolts will need to be tested to show that the heat treating process resulted in mechanical properties that meet the requirements of the specification. These bolts are tested for tensile strength, yield strength, reduction of area, elongation, and hardness.
Cold Heading
Cold headed bolts are manufactured by straightening long steel coil and cut to length. The pieces then go through dies where the head is formed at room temperature. After roll threading, the bolts are solution annealed or quenched and tempered before a mechanical test is performed.
Bent Bolts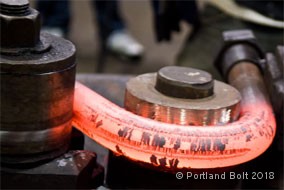 Bent bolts such as U-bolts, 90° bent anchor bolts, hook bolts, and eye bolts can be manufactured to the A320 specifications. During the manufacturing process, steel round bar is cut, threaded and either hot or cold bent around a pin. A hot bend is when the steel is heated prior to fabricating, whereas cold bending is performed at room temperature. Afterwards, the bolts may go through a heat treating process.
Hot-Dip Galvanizing
A common type of coating to protect the bolts from the elements is hot-dip galvanizing. Prior to galvanizing, the bolts are cleaned and then dipped into 840°F molten zinc. The bolts are spun to remove excess zinc. This process will meet ASTM F2329 with proper coating thickness.
Charpy Impact Testing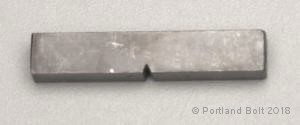 A320 Grade L7 and L43 bolts are required to undergo a Charpy impact test. The purpose of this is to measure the impact toughness of the steel at low temperatures.
First, a standard sample piece is machined to 10mm x 10mm x 55mm with a v notch cut in the middle. The sample piece is then brought down to a specific temperature. L7 and L43 bolts are tested at -150°F. Then, it is placed on an impact test machine where a pendulum swings down and the hammer hits the notch on the sample piece. The machine will then measure the amount of energy absorbed.
½" heat-treated bars, bolts, screws, studs, and stud bolts do not require impact testing.
Recommended Test Temperature for Stock Parts
Grade
Test Temperature
°F
°C
L7M, L70, L71, L72, L73
-100
-73
L7, L7A, L7B, L7C
-150
-101
L43
-150
-101
L1
-100
-73